WE ARE AN INDEPENDENT CREATIVE AGENCY THAT DREAMS UP FRESH LIFESTYLE BRANDS FOR COMPANIES WHO STRIVE TO BE MEANINGFULLY BETTER.  
WE BELIEVE THAT EVERY ASPECT OF THE BRAND SHOULD BE CAREFULLY CONSIDERED.
Great branding breeds greater products
At RDA, we believe that the highest accomplishment a branding agency can achieve is to create a brand so powerful it makes the product better. Our mission is to develop authentic and provocative brands that raise the bar and compel audiences to fall in love with them.
Ever since we opened our doors in 1976, we've understood that while people buy products, they form relationships with brands. That's why we approach every aspect of our client's business as a branding exercise—from their corporate practices to their consumer relationships. A brand is a living, breathing organism that requires every detail to be carefully considered. And that's exactly what we do.
Crafted
Every project, whether big or small, presents a unique set of challenges. We take a microscope to every detail resulting in carefully crafted brands that are tailored to the lifestyles of the target consumers.
Insightful
Behind every great idea is a unique insight. Before any creative work is done, we analyze every aspect of the brand. This ensures that our ideas are on the money and have maximum impact.
Nimble
We've been doing this long enough to know that projects can pop up at any time and deadlines shift suddenly. We're a flexible bunch who wear many hats, which makes us capable of adapting to the changing nature of branding work.
Playful
Branding is serious work, but it doesn't mean the ideas have to be. Toying with expectations and turning them on their heads keeps ideas surprising and new.
Fresh
What's new? What's next? What hasn't anyone considered yet? We're inspired by what we've seen and driven to create what no one has.
Reliable
Clients count on us to deliver great ideas that are on budget and on time. Internally, we trust each other and hold ourselves accountable. Following through on our promises is one of the key reasons our clients keep us on record for decades.
BRANDING & DESIGN
Brand Strategy

Brand Positioning

Identity System

Creative Direction

Graphic Design

Copywriting
TRADITIONAL MARKETING
Print Advertising 

Outdoor

Direct Mail

Sales Collateral

Media Buying & Planning
DIGITAL MARKETING
User Experience

Website Design & Development 

CRM 

Mobile Marketing 

Online Advertising 

Media Buying & Planning
ORIGINAL CONTENT
Photography

Video Direction and Production

Illustrations
EXPERIENCE DESIGN
Consumer Experience Strategy

Signature Moments
SOCIAL MEDIA MARKETING
Social Strategy 

Community Management 

Content Creation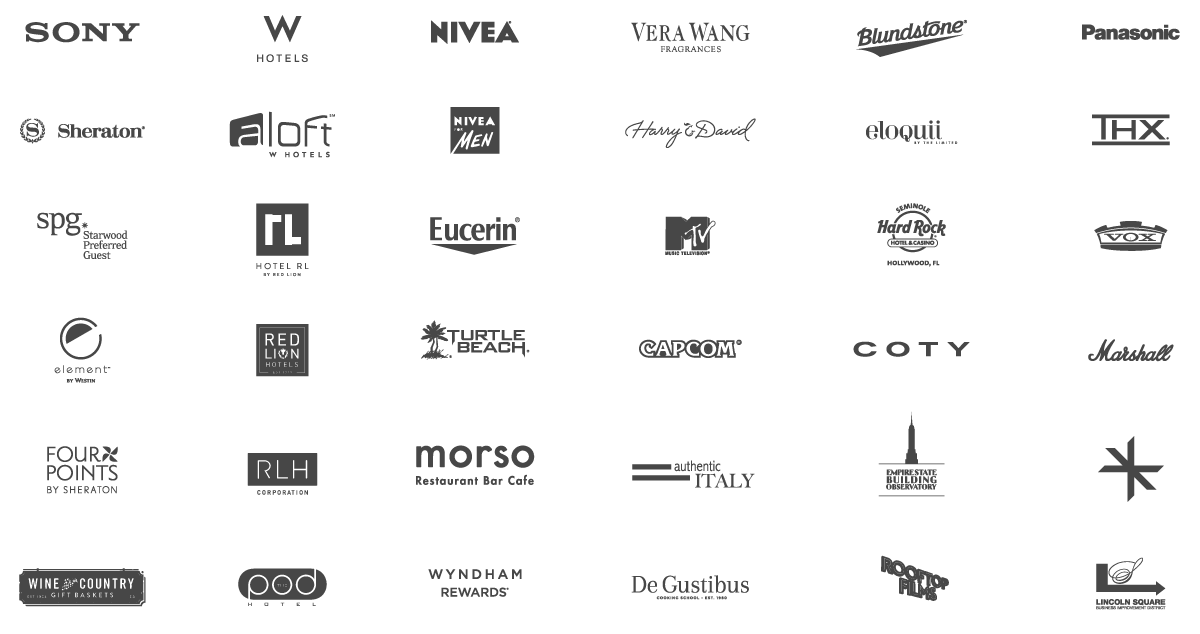 Hospitality

Aloft Hotels
America's Best Inn & Suites
America's Best Value Inn
Canada's Best Value Inn
Country Hearth Inn & Suites
DeWitt Hotel & Suites
Element Hotels
Four Points
FX Luxury
Guest Amenities
GuestHouse
Hard Rock Hotel & Casino Hollywood
Hard Rock Hotel & Casino Tampa
Hotel RL
Jameson Inn
Lexington
Marriott Hotels
Palms Hotels & Resorts
Plan Do See
Red Lion Hotels
Red Lion Inn & Suites
Settle Inn
Sheraton
Signature Inn
The POD Hotel
Value Inn Worldwide
W Hotels
W Vieques
Wyndham Rewards


Travel & Tourism

Authentic Italy
Empire State Building
Pan American World Airways (Pan Am)
Top of the Rock


Non-profit


Flatiron BID
Hudson Square BID
Lincoln Square BID
Project Wake-Up Call
Rooftop Films

Technology

Adorama
Audio Pro
B+W Loudspeakers
Chyron
Contax Cameras
Dahlquist
Denon
GAF
Gale Turntables
GTE
Harvey Sound
iHome
IMN-TV
Kaazing
Kef
KORG
Kyocera
Marshall
Martin
MiFi
Nagaoka Cartridges
Vox
Nakamichi
NEC
Panasonic
Riiflex
Vestex
SONY
THX
ViewMaster
Vox
Yashica Cameras

Gaming Companies

2K Video Games
Acclaim
Capcom
Chatoon
Codemasters
GT Interactive
Harmonix
Konami
LJN
MTV Games
Gaming Titles

Alien 3
Alien Trilogy
Arch Rivals
Armories
Batman Forever
Beetlejuice
Bill & Ted's Excellent Adventure
Bioshock
Burnout
Crash Dummies
Crazy Taxi
Dan Marino
Dance Central
Mortal Kombat
Dave Mirra Freestyle BMX
Derek Jeter All Star Baseball
Devil May Cry
Double Dragon
Forsaken
Frank Thomas The Big Hurt
Green Day Rock Band
Civilization
Krusty the Cloun
Maximum Carnage
MVP Roger Clemens
NBA Basketball
NBA Jam
NFL Football
NFL Quarterback Club
NHL Hockey
Resident Evil
Revolt
Revolution X
Rockband
Shadow Man
Shaq Game
Smash TV
South Park
Spiderman
Spiderman & Venom
Terminator 2 Judgement Day
Terminator 3 Judgement
The Beatles: Rock Band
The Punisher
The Simpsons
True Lies
Turok
Wizards & Warriors
Wolverine
WWF Raw
WWF Wrestlemania
X-Men

Fashion

Annie Sez
Blundstone
Eloquii
Mandee
Hot Sox
Todd Oldham

Beauty

Aquaphor
Bliss
Cascadia Soapery
Eucerin
International Flavors & Fragrances
Nivea
Nivea for Men
Ralph Lauren Fragrances
Vera Wang Fragrances

Food & Wine

Amazon Water
Cucina Tosca
De Gustibus Cooking Studio
G'Vine
Harry & David
Kremlovskya Vodka
LeMadii Restaurant
Mad 61 Restaurant
Morso Restaurant
Seagrams
Tuscan Square Restaurant
Wine Country Gift Baskets

Other

Gemini Broadway Play
Lot 58
Pressman Toy